My own Tango life has always been focussed on small creative regular group classes, private lessons, practise and studying the music.
For a time now all of us are of course losing two important aspects of our Tango world:
Dancing at Milongas – including the social aspect this provides
Attending classes
For me personally I will miss so much the input of professionals who have been consistently guiding me for 8 years.
I have also really enjoyed travelling to Spain to learn tango – another aspect that of course is lost in these times.
My reaction has been to concentrate on practise even more than before – with my current schedule totalling 10 hours a week.
I have found a way of combining weekly themes and a different orchestras in order to sustain interest over the coming year – or however long it takes before Tango can return to normality.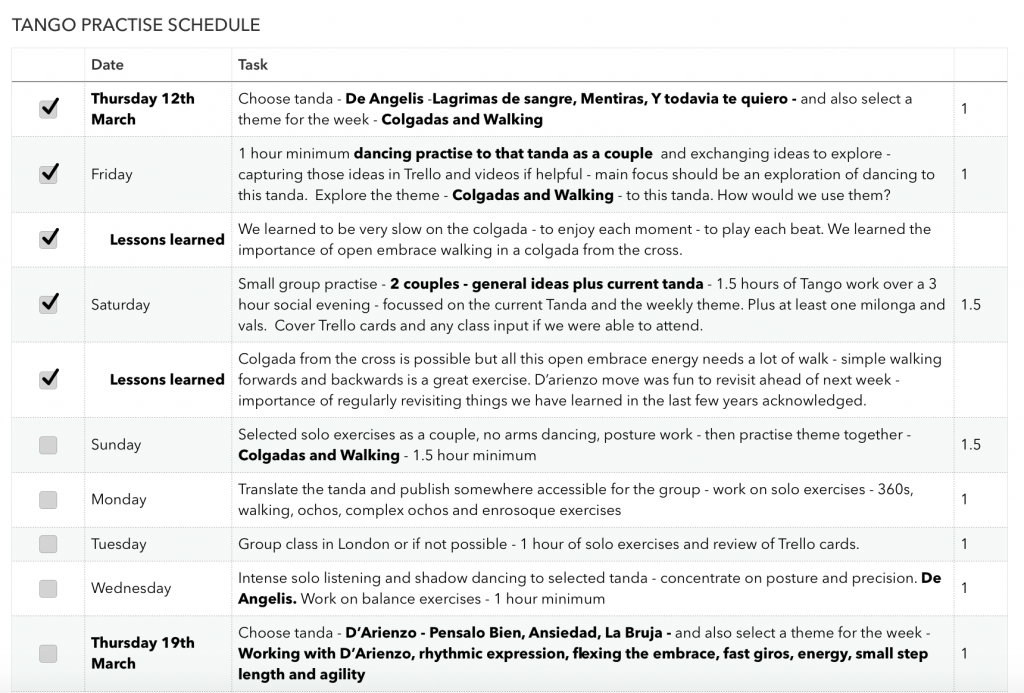 It is still early but so far this is working well.
We have found that focussing on how the theme might be used in the focus tanda for that week provides a lot of material and creates good learning experiences and discussions.
In addition I have personally always used Trello to store focussed notes and video clips from lessons – this is now proving even more valuable as we are also revisiting material from recent years – exploring it with new experiences and fresh eyes.
Here for reference is an extract from just one part of one board :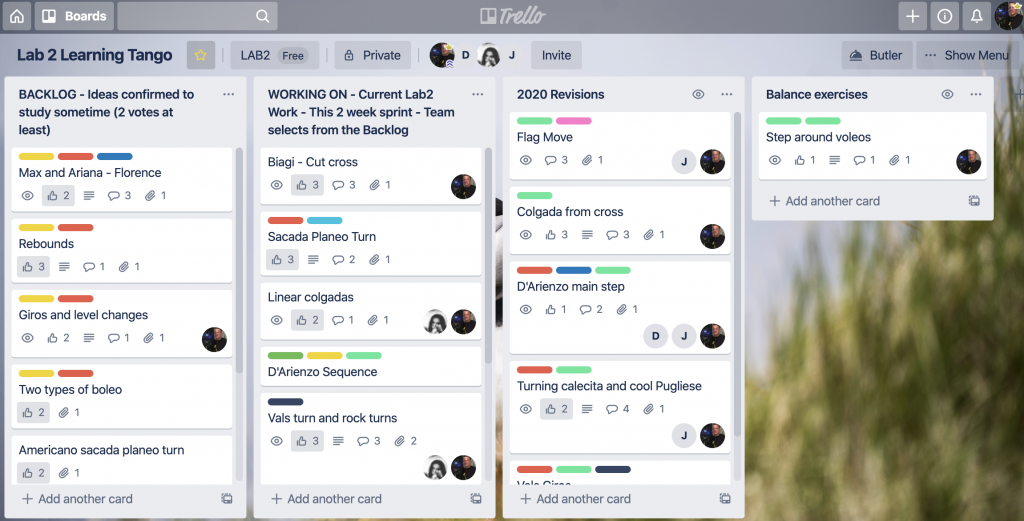 Using Trello all of us can review the cards and videos in our own time, and suggest items for the following week.
I completely understand that for many dancers my approach will seem hopelessly extreme – but as I lose the input of the wonderful teachers in my life for a while I am going to take the opportunity to work even harder to build on the foundation they helped me to create.
I am extremely fortunate to have 3 talented friends to work with – all of us are enthusiastic to progress and to keep Tango in our hearts and minds as these depressing events unfold around us.
Continuing to enjoy Tango is very important to us all – it provides a sense of energy, purpose and friendship – we all need to find ways to adapt in these changing times – and this is my personal solution.