In the Arts
Another great evening last week discussing creative writing with Gary Mepsted. One of the main subjects that comes up consistently is that of leaving space for the reader.
This is extremely important in creative writing – if we provide all the answers and explanations the reader will become bored. Give them the space to work things out for themselves, and leave them with a sense of satisfaction – ideally the emotion would be 'I didn't expect that – but yes, I understand". People are also absolutely prepared to have many minor things left unresolved, a beginner writer like myself is too often tempted to make everything too neat.
In photography I am also learning that without a story that allows the viewer to participate the photo is a meaningless snap. A friend often describes this as 'context' – she will ignore a pretty scene of a boat drifting by, because there is no story. She will be facing the other way – finding images and stories amongst the graffiti on the wall.
This is true in business and also in my life.
In business we have been designing and implementing a comprehensive dashboard this month. I have all of the financial information nailed, its just a question of presentation. But one of the metrics needs to be a measure of satisfaction and engagement of our staff. I passed around a simple graph that a friend who runs a search company had found very useful – a simple graph that asks you to plot where you are on two axes – one is how clear your role / tasks are – and the other is how much freedom you have within that role.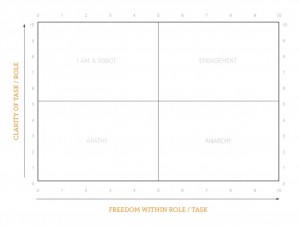 The idea of course is that without the freedom you simply won't be engaged – people need space to contribute – they want to chose the best way to get things done, participate fully in the way they accomplish the tasks the company needs them to complete. They need space to express themselves.
In life I am learning now to make sure that I respect peoples space – i think I have always had a temptation to try to control too much. A friend I met recently is just a brilliant example of this – she wants to live life to the full – but expects to control nothing, to enjoy the weirdness and excitement with what happens if you pursue your passions and learn from those you meet on the way.