Today I walked up into the hills behind the centre of town, heading vaguely in the direction of the castle which I knew to be somewhere 'up on the top'. I am continuing my approach of not planning anything, not researching anything – just getting out there at every opportunity and seeing what happens.
Within the first few hundred yards I had passed the Roman Agora ( 2nd Century ) and the Aghios Dimitrios church ( 5th Century ) and then started the uphill climb towards the castle.
At the top, within a few meters of the castle ruins, I was totally surprised to find the 14th century Vlatadon Monastery – a UNESCO world heritage site. I wandered around its peaceful courtyard – the only visitor apart from the peacocks and two workmen cleaning the walls. Even the bookshop was locked.
To me the city of Thessaloniki is like a multi layered palimpsest – centuries upon centuries of human activity forming a surprising three dimensional puzzle. Greeks, Romans, Jews, the great fire and two world wars all leaving their marks.
Many of the architectural finds in modern Thessaloniki are actually made when they are constructing a new building – they dig the foundations, find older habitations, stop the construction, excavate carefully, catalogue what they find and unless it is really significant they then fill it in again to construct the new foundations as planned.
On the steep walk up through narrow suburban alleys I was reminded again of the modern struggle that forms the constant backdrop to my visit – the crisis that now faces Greece as it struggles to find any kind of financial stability.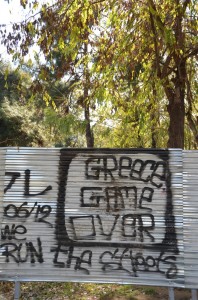 And that struggle is expressed in the Graffiti that I have been photographing every day. It is like the final veneer layered onto so many walls, and in these steep alleys you don't need to walk far to find amazing juxtapositions of the modern and the old, they sit quite literally one on top of the other.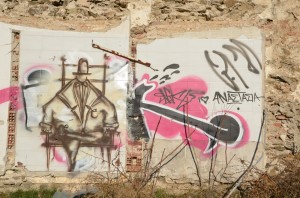 Sometimes the Graffiti rages it's simple message of frustration and anger, but so often it is laced with humour and delivered with such skill.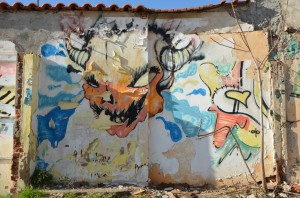 I have no credibility at all to talk about Graffiti – I know nothing at all about it. But that is what my life is about now – finding out what I don't know, pushing myself, learning and chasing information like a child does. And today I found myself drawn to it again and again – it expresses so much about this latest episode in the long history of Greece. And sometimes despite everything it just makes me smile.