One of the most important things I think I have finally, absolutely learnt recently is how fantastic it is to just get out and do stuff. You learn, live and celebrate.  Why do I ever take my eyes off of this very simple goal?
Two great examples form the last 24 hours here in Thessaloniki.
Yesterday evening, after two glorious days of December sunshine, as the sun went down it started to pour with rain. Rather than sit and read, listen to music or write – I looked out – saw the street reflections – reached for the camera and just tramped around for a couple of hours in the dark. What a great decision.
I spent the time wandering around in Ladadika – a very small area of Thessaloniki treasured for small intimate cobbled streets with cafes, bars and restaurants – a short stroll from the sea and opposite the main port. And about 500 yards from my hotel, so no effort at all.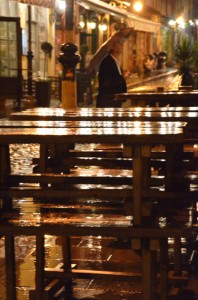 I ended up with some photos that I love, two of which I have posted here – I learned about the camera which is still new to me – but more importantly I have some memories that I treasure because they were created out of the moment by me getting out and just living. Upside down tables and puddles were transformed into something quite magical – and all I had to do was be there and look.
Then again this evening – no rain but its windy and cold – and off I go. No hesitation. This time the experience wasn't driven by photographs but simply by going into a bar to shelter from the wind. Inside it was small, very dark and intimate. I ordered a glass of wine, warmed up, got settled –  and very gradually started looking around.  It took me a while to work out that I was the only guy in the bar.. I had managed to wander into a gay women-only bar without realizing it.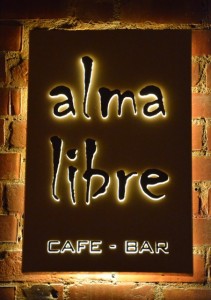 After my over-polite exit i fell into the next bar where the barmaid – Nandia – thought it was extremely funny, and so did I. The girls in the bar were  amused, hospitable and I am sure I didn't spoil their evening, I was just a crazy English bloke who didn't understand what way up anything was and left as soon as he did.
And to round off the the experience I did manage to order a sparkling water ( to go with the chardonnay ) in Greek without Nandia hesitating – although she did smile – for all the wrong reasons women have been smiling at me all evening – and how nice is that?
Just get up and get out there – it's such an exciting planet!