I have been watching videos of professionals dancing with students – and in particular my own teachers. From those videos I take stills. And even in the stills it is staggeringly obvious who the professionals are.
To me that's  intriguing – they don't even have to be moving to show the world that they are a great tango dancer.
So what does this mean? I think it shows the importance of
Precision
Posture
Line
Expression
Lets take a simple side step. Surely I can manage one of those?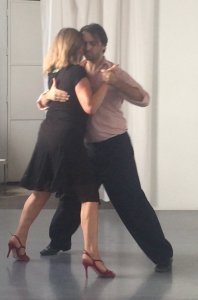 When Joao makes this side step you know exactly what it is – and that this is the point of the moment, His torso sits firmly on the triangle of that expressive definite step – everything is strongly connected to the floor. The lines are precise and he is totally grounded. Even though he is of course in motion.
A definite expressive sense of the moment – it is this – it is a side step.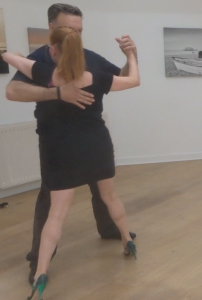 And the same with Kirsty – she is showing the world what a side step is.
Clean lines, definite, precise.
I find it amazing that great dancers – in motion – can be frozen in time and they still express exactly the nature of Tango. They show components as they move from axis to axis – always showing the world – and their partner – what Tango is.
Precision
Posture
Line
Expression
That's the next year of practice sorted out then!