Just finished a bank holiday weekend dominated by the rare sight of the sun, and more importantly by a 3 day tango festival at Ardingly.
I spent the days in workshops – although not enough as I am too much of a beginner to be allowed into most of them – and the nights at two Milongas. I only took my camera for a couple of hours – too busy dancing – but here's a few shots.
Error fetching Flickr photos: WP HTTP Error: cURL error 77:
I thoroughtly enjoyed everything about the festival. The workshops were excellent  and if the music in the main milonga ever got too conservative – which for me it did on Saturday – then there was a small room playing Nuevo, which was great. The Sunday Milonga featured Otros Aires, and that was indeed a party atmosphere playing just the kind of faster Milonga style that I love messing about to.
Because I am too much of a beginner to do the kind of classes I would love of the 6 workshops I attended 3 were actually about the music – how it is structured or how we might respond to the various rhythms and pacing that are in the sounds of Tango.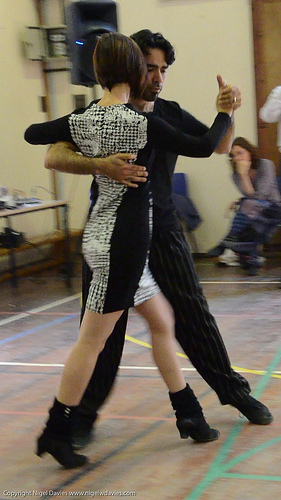 My last workshop this afternoon –  "Using Phrasing, connecting to the music and each other" – at which these two main images were taken, really summed up so much for me. Tango is a dance, it isn't a mathematical formula or some kind of exam. Learning yet another step in a wooden, recipe style – oblivious of the music –  isn't why Tango has really caught my imagination. Yes it is challenging and interesting to learn new figures – but it seems to me that Tango is about connection and expression and the complex messages that exist so naturally in powerful, emotional music. Tango gives you a vocabulary for a deep conversation, but in the end it is a dance and it really should be enjoyed as such.
Of the wonderful professionals that were there Dario and Clair – featured in these two photographs – captured that intensity of connection and celebration of each other and the structure of Tango more than anyone I have seen. On the featured image they are taking the first step to the music to show our class such a simple phrase – yet the expression of radiant hapiness and playful celebration is so totally genuine. In the main photo they are demonstrating how to vary the pace of one of the most basic moves any beginner is taught in their first lessons – look at them – such intensity and celebration of each other and of Tango.
They are dancing.