Decades ago I read Sartre for mostly the wrong reasons, like people of my generation did when we wanted to look cool. But this evening I remembered so strongly one passage from Nausea. The moment when Antoine sees the horror of something for what it is, without cloaking it in names. It is a root – specifically the root of a chestnut tree.
It made me feel physically sick at the time. I don't think I ever really got to grips with Sartre but this particular passage caused a very deep and intensely physical reaction in me – wholly appropriate given the title of the novel and the general malaise of the main protagonist.
"So I was in the park just now. The roots of the chestnut tree were sunk in the ground just under my bench. I couldn't remember it was a root any more. The words had vanished and with them the significance of things, their methods of use, and the feeble points of reference which men have traced on their surface. I was sitting, stooping forward, head bowed, alone in front of this black, knotty mass, entirely beastly, which frightened me".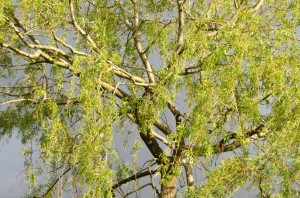 This evening I took this photo, simply inspired by the spring evening light in my garden. The Willow tree is light and reaches outwards, by contrast my own mental images of the half buried root were entirely black, and squirming down into the earth. Apart from the coincidence of trees there seems little connection.
But then I remembered this other darker tree on a recent walk.
When I look at these images I just see so many patterns, so much I cannot understand without hiding behind the shield of language, smug in my elevated safety. There is so much energy, such different timescales, but so little that I truly understand in any meaningful way.
It really disturbed me again this evening, 30 years later, that familiar sensation that if my mind allows me to see things for what they truly are, without names, then I am simply lost.