Last night I had the privilege to see the Nederlands Dans Theater 1 performing Sehnsucht / Schmetterling.
I just stand in so much awe of the truly creative people that can make such an evening happen.
Schmetterling ( "butterfly") was one of the strongest works I have ever seen. It truly captured me, it got into my heart and ran me through the full spectrum of emotions from laughter to profound sadness.
But most of all it made me feel energised, passionate and involved. I left the theatre feeling so very, very alive.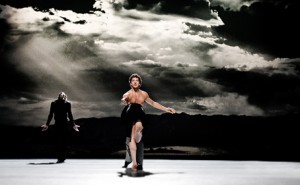 I was so desperate for it to keep going, to never end.
And in a way that is exactly what a performance of such greatness achieves – it is within many of us who shared that evening and so will never truly end. Ripples of thoughts reach out to so many parts of my life, changing perspectives, shining a light on such difficult subjects to talk about.
And that is one of the thoughts that has stayed with me – how dance can be so eloquent at phrasing such difficult subjects as age, death and love. The human body is capable of so much – and words are sometimes such an approximate and closed way to articulate complex ideas.