In the last week I have been fortunate to spend time at the Matisse cut outs at the Tate Modern, and to get a chance to see again Sylvie Guillem and Russell Maliphant in Push
Both of course are wonderful – such talent.
I was really moved by a particular Matisse – Acrobats – a work that I had never seen before. It spoke to me of so many things.
One of the many examples on show inspired by the circus, to me it spoke of a journey between two realities – the one constrained and the other free.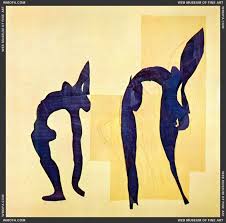 Matisse Acrobats
I was thrilled to feel the same message in Push. I don't think that these artists necessarily were thinking on these lines at all – but that is one of the reasons that abstract art and contemporary dance are so strong – you are free to connect with it in a way that makes sense for your own soul.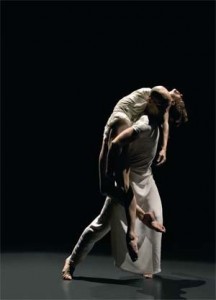 Sylvie Guillem and Maliphant in Push
So what this mean for me – am I constrained? Stifled?  Or free ?  Is it a progression over time?
I like to think that it is – and that in the last couple of years I have become far freer than ever before. But I know I have a long way to go – I am still too intense, too demanding, poor at just relaxing and enjoying the moment. At staying in the present.
The main image is from that great Christopher Bruce ballet – Swansong – that I last saw at Sadler's wells back in 2007. At the end of that work the prisoner is finally liberated by death – and that image of him walking slowly offstage towards a distant light has stayed with me so strongly.
Each of us has some version of our own prison – some sense of how our wings are clipped. But once you see a way to free yourself… it's just amazing – what else is there?
Fly.