Sometimes you just get stuck in the wrong place with the wrong camera, but if you take enough shots and enjoy the experience you can still capture images that connect emotionally with what you are feeling.
So here's my effort from a couple of evenings ago. On the White Night Festival in Seville, I went to a great Flamenco performance – and only had a pocket camera – but actually I quite like the results.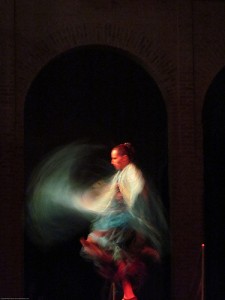 They are of Carmen Iniesta Iniesta – an amazing performance – and all completely free. It took place in the Palacio Marqueses de la Algaba – a 15th century site with the most gorgeous inner courtyard, high arches and a haunting echo to the wonderful singing and guitar that accompanied Carmen.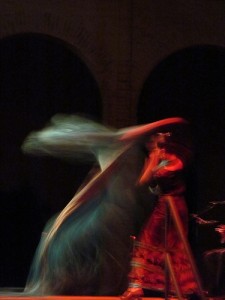 As someone who knows nothing about Flamenco it was interesting to sense the conversations between the dancer and the musicians, it seemed to me to have a sense of improvisation and dialogue which was very open and fascinating.
All in all a great experience, and made a wonderful diversion from my continued Tango lessons with Joao Alves.
High Resolution Images are located on Flickr here.