On leaving Thessaloniki – my first visit to that city and indeed my first visit to Greece for over 20 years – what are my lasting impressions and thoughts?
Firstly the depth of historical significance that Greece has – it seems so obvious but walking in Thessaloniki and in the Vergina site I experienced a very strong physical sense of the influence of Greece over 3 millennia.
The frustration of the modern Greek people at the crisis, and their anger at the political system. Sadly the country may be to be moving towards large scale unrest in 2013, but perhaps centred on Athens rather than Thessaloniki, which has a much gentler pace of life.
The refreshing way that so many people speak almost no English at all. When I asked a taxi driver for the 'Byzantium Museum' – one of the best known places to visit in Thessaloniki – he had absolutely no idea what I was saying. I do find this to be a positive thing, so many countries understandably allow English to dilute their linguistic culture – Greece is more Greek to me because so many people know only their own language.
The friendliness of the Greek people to strangers. Maria said that wherever you are in Greece you will always find someone to share a coffee with you. Xenia (Greek: ξενία, xenía) is the Greek word for the generosity and courtesy shown to those who are far from home. Xenia was considered to be particularly important in ancient times when people thought gods mingled amongst them. It had a practical significance then – if one had not been a good host to a stranger, there was the risk of incurring the wrath of a god disguised as the stranger. I have no idea if there is any real connection with these ancient customs – but modern Greek people are certainly open and friendly, and keen to talk.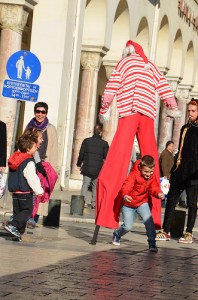 It would be so worth me learning just a few hundred words of Greek so as to be able to share that coffee with people who speak no English. I am determined to do so, and to visit again next year. Stefamos, a book publisher that I was fortunate to meet on the plane, shared with me that in Greece when they say 'lets go for a coffee' the coffee is totally irrelevant – its just a chance to talk.
And two general things that I am increasingly aware of.
Firstly the extreme importance to me of simply travelling. There is something mentally liberating in physically visiting new places that helps to open doors in my mind. Barriers of repetitive routines and the visual dullness of familiar sights are completely removed just by being in a new environment.
Secondly the the importance of climate on both my physical well being and on the culture of countries. The pilot gave us an in flight update with the weather waiting for us at Gatwick and he said "as you'd expect – cold, wet and raining." I am beginning to wonder if I can live much longer under such physical clouds and dark days.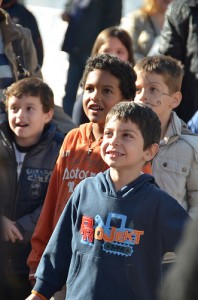 I saw the sunlight on the upturned smiling faces of the children in the square of Thessaloniki, and perhaps I need to spend significantly more time under the warming influence of the sun.