In one of the most interesting, enjoyable, creative and ultimately exhausting tango lessons I have experienced I had a wonderful experience trying to lead two great followers.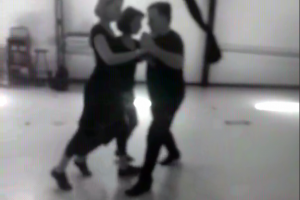 Why was this important?
My lead is not clear enough – so  was given this exercise as now one follower only feels what I lead as it is transmitted through the others body – and hesitation or confusion from me is magnified and she is immediately confused.
I have too much fear – in this unfamiliar situation of 6 feet and 3 torsos there is no room for hesitation
For the followers – what a great challenge – they have to be so careful of their axis as with any errors they will disturb the other dancer. They had to focus for every second.
This was once again such an enjoyable and creative lesson that continues to make me realise what a very long journey learning tango is – and how satisfying it is as we are set new and even more interesting challenges with such wonderful friends and dancers to share them.